Bike Messengers in the Mountains: The Sustainable Reality of 'Biciclò'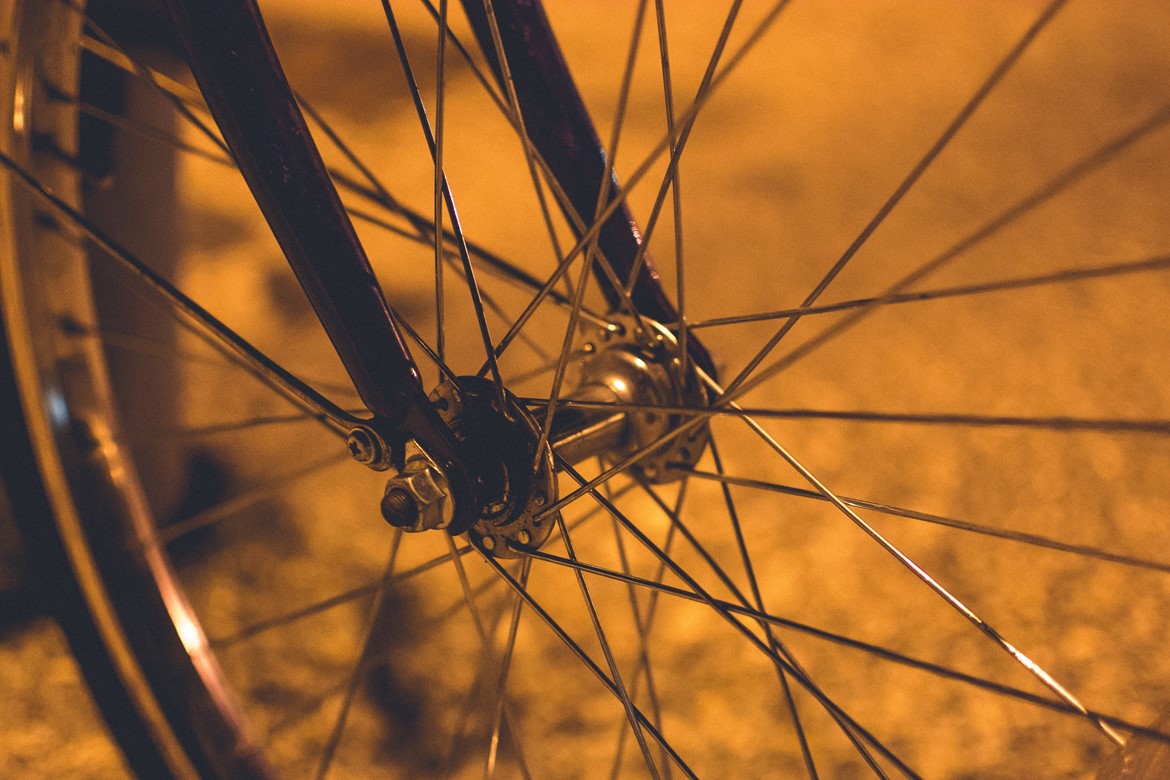 In the last years the bike messengers started to ride ever stronger. Even in Italy the phenomenon of bicycle couriers has spread out on a large scale and today over thirty exist at national level.
The Southern Mountain Italian Bike Messengers as Example of Innovative and Sustainable Service
In Potenza, Basilicata (a small region of Southern Italy), a small enterprise is growing on the basis of providing to the community this highly sustainable and innovative service, despite the climate and hostile morphological conformation of its territory. The enterprise is Biciclò, a company composed of 4 members and an external participant; they are Giovanni, Vittorio, Alessandro, Simon, and Mattia.

Their idea was born in 2016 as bicycle supporters with strong previous associative experiences. They started promoting pedal-assisted bike (e-bike) purchase groups and then they opened the commercial activity, also thanks to the explosion of the phenomenon in other contexts and to the existing European Cycle Logistics Federation, that they later joined. The comparison with a similar reality already existing in Perugia (another Italian mountain town like Potenza) was crucial, since it already used two-wheels transport to provide local services.
Their work is mainly carried out in the urban area of Potenza, using 7 vehicles: 2 cargo e-bikes for deliveries, 4 e-bikes with a 70x100 hooked wing for advertising duties , and 1 covered e-quadricycle.
They offer many services: pony express for delivering documents and packages, food & beverages home delivery, personal services, and private advertising. The two next activities are expected to include cycle-touring (through agreements with local B&Bs to carry out tours with customers eager to discover the tangible and intangible local heritage by bike) and e-bike rental (around 7 of them). By the way, Vittorio tells us that "even if the cost of an e-bike is about 1,200 euros, when you try it you are convinced more and more for the subsequent purchase, which is why the rental should be finalized to the purchase".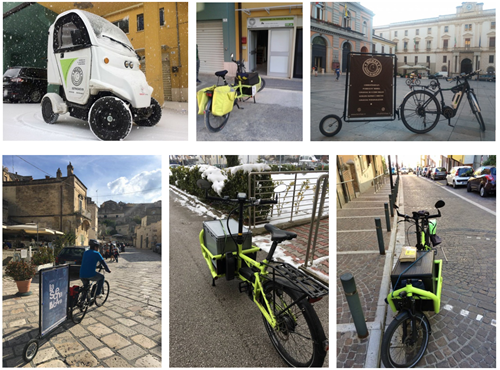 They have around thirty customers: insurance companies, professional firms (opticians, dentists, etc.), machine shops, and small businesses. For example, Biciclò carries out the "last mile delivery" on behalf of a big courier: the goods are taken from the courier's warehouse and the parcels up to 3 kg in weight and 140 liters in volume are delivered, especially in areas closed to vehicular traffic or those difficult to reach by traditional vans (historic centers, for example). It's possible to decongest the city center and compensate for the problem of lack of parking in that zone. Biciclò carries out food delivery on behalf of a restaurant that is already working with a low environmental impact through the production of environmentally friendly food and beverages. Also, Biciclò supports people with reduced mobility, helping them in carrying out some daily tasks such as paying bills, withdrawing medical tests, and delivering grocery shopping.
The Vision of Biciclò on This Type of Activity
The members of Biciclò talk about an activity with a dual purpose – a commercial one, but above all that one linked to the daily awareness of the use of the bicycle as a means of sustainable transport. People and goods moving by bike produces a huge impact on society. "When you make a delivery, you don't move just with a package, but also with a message of sustainability", says Vittorio. Therefore the vision is not only entrepreneurial, but also political.
The bike is an older vehicle than the car. "People moving by car tend to live their mean of transportation just as the extension of a private space, while people riding bikes share their space with others and can open their minds more than who travels within a metal sheet", points out Vittorio again, quoting a psychological study on the effects of bike employment. "By bike you can feel natural smells, temperature and sounds and the approach to the movement is more humane and slow compared to the rest of the means of transport", specifies Alessandro.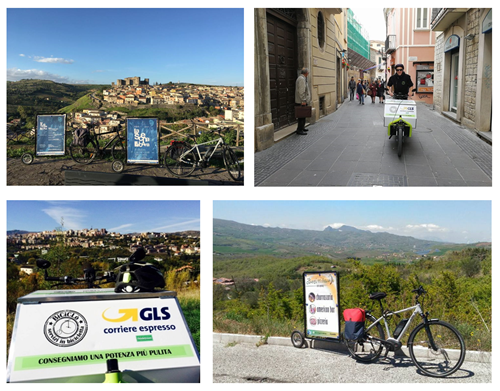 Surely at the beginning there was a lot of skepticism from the community towards this activity, above all because local people considered it as an impossible activity to realize in a mountain town with high slopes and very adverse climatic conditions in winter. But, the challenge has been won and now enthusiasm is high. "When children see us on e-bikes they are always very intrigued", Alessandro comments, "and that is quite significant compared to the awareness of the new generations".
"As for us we have won the challenge so far because people start believing in us and our project, above all thanks to the environmental and economic sustainability work that we carry out in the last mile deliveries", states Vittorio, noting that this small activity also tries to offer someone a job opportunity.
Why not replay this good practice of slow and green business elsewhere?
Author: Alessandro Zito / Materahub
Related Posts: