The teacher and the "bibliomotocarro" ape put wheels on books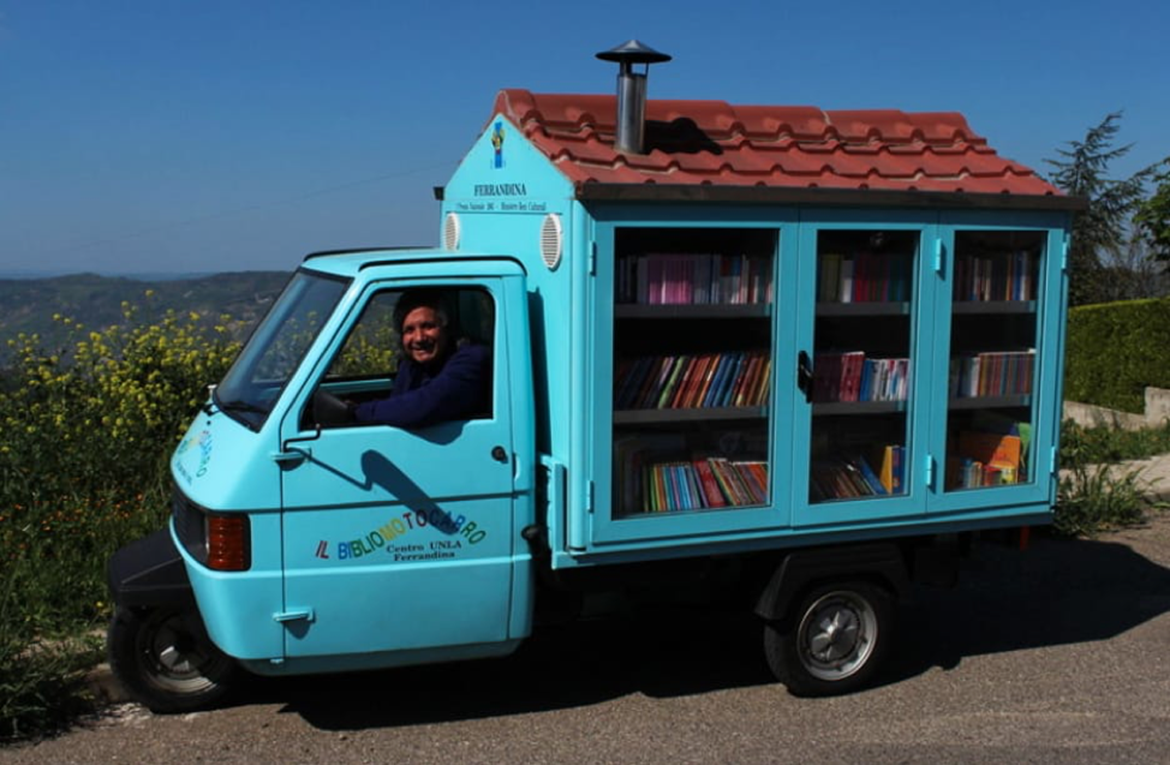 (Photo: Andrea Sabbadini)
The cultural project "to the limits": an interesting example on how to spread culture within the small communities.
Who is Antonio La Cava?
Antonio La Cava, a 73-year-old native of Ferrandina (Matera, in southern Italy), has an impressive 42 years of committed service as a primary school teacher; between 1999 and 2000 he created the "Bibliomotocarro" library, which, since then, has travelled non-stop to small villages (up to 1,000 inhabitants), taking books, culture and happiness to children (and their elders). His ally in this endeavour is his Ape Car 500 converted into a travelling library, which climbs up to altitudes of more than one thousand metres, to reach the remotest communities.
So far the teacher and his trusty Ape have covered more than 180,000 kilometres together, of which 50,000 in the last three years alone.

Antonio explains his cultural project, named "Fino ai margini" (to the limits): "Since we began, in a spirit of humility and sacrifice, the Bibliomotocarro has taken culture to the largest towns as well as the smallest and most remote spots of the Basilicata region, where, partly due to morphological reasons, communities are often located at significant distances from one another: taking books, workshops and a love of reading to children and adults has a special value and meaning here; furthermore, the nomination of Matera as the European Capital of Culture for 2019 is an extraordinary opportunity to shorten these distances even more."
The project consists of a series of activities, including workshops to be held in village schools, reading-related activities, the dramatization of narrative texts, book borrowing (including books written and illustrated by schoolchildren), literary characters transformed into short films interpreted by the children, video-animations inspired by literary texts and many other ideas and experiences.
Asked why he chose a Piaggio Ape for his project, Antonio replies with a smile: "The idea was to put wheels on books, and the choice of vehicle was fundamental; the Ape has been known everywhere for 70 years; it's a humble, simple, hard-working and cheerful vehicle.
I converted it into an itinerant library, with a house-like roof, six 2-metre shelves for a total of 12 metres, a capacity of one thousand books and, in the rear, a 'cine-literary' space with a screen. As soon as you see it, it puts you in a good mood. The house shape suggests the idea of a refuge, of relaxation, which is what every book offers. In short, culture on wheels to bring people and communities together, with imagination and creativity."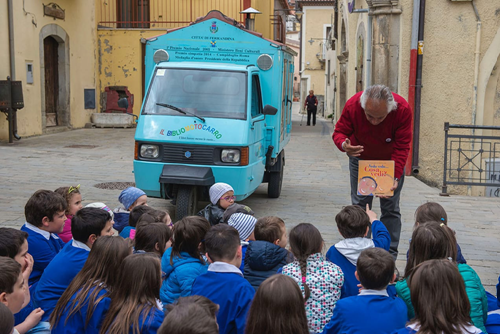 (Photo: Andrea Sabbadini)
Antonio La Cava drives up to 200-300 km a day, and doesn't stop even in the summer – "the Bibliomotocarro never goes on holiday!" – taking books and fun as far as the coastal villages of Basilicata (and up to the provinces of Bari and Lecce in the region of Puglia).
His scheme, covered by newspapers and TV, has won wide recognition and provided the inspiration – as the exemplar with almost twenty years of experience – for similar initiatives.
The list includes the BiblioApe in Tuscany: a small library on three wheels offering an alternative way of promoting and supporting reading.
Created and developed by the Olifante cultural association of Capannoli, in the province of Pisa, and launched in 2012, the BiblioApe is part of the Bibliolandia network. It travels the roads of the Valdera valley and the province of Pisa to lend books to schools, cultural and recreational circles and associations, and markets, reaching villages and smaller territorial centres where a traditional library service may be absent.
Another scheme, which began in 2015, is the Ape Randagia in Concesio (Brescia), which is equipped with an internet connection and GPS: a travelling library with a bright yellow livery, that travels to schools, squares, parks and markets.
Then there's the cheerful Ape Libraia in Marruggio, which has been promoting reading and a love of books in the province of Taranto for a few years. Just like the ApeLettura in Rome.
Related Posts: