First TPM took place in Zagreb, Croatia!
First project activity in the sociSDG project, Transnational project meeting (TPM), took place on 7th and 8th of November in Zagreb, Croatia. Participants of the first project activity were representatives of nine project partners: Croatian Institute for CSR - IDOP (coordinator, Croatia), eRevalue (United Kingdom), Global Impact Grid (Germany), Homo Eminens (Lithuania), Kaleidoscope Futures (United Kingdom), LatConsul (Latvia), LUM Jean Monnet University (Italy), Materahub (Italy) and Ponts Foundation (Slovakia).
The project under the name Social Innovation & Inclusion of Sustainable Development Goals – sociSDG is an Erasmus+ strategic partnership focusing on adult education, cooperation for innovation and exchange of good practice examples regarding Sustainable Development Goals. The project started in October of 2017 and will end in October 2019.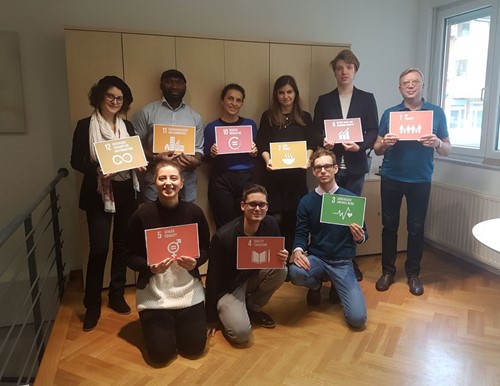 Kick-off meeting had several important goals like opening the project and meeting of partners, official presentation of the project, main objectives and the budget. It was also important for discussing aims, activities, phases and results of the project and clarifying project partners' responsibilities and obligations.

Meeting in Zagreb was an opportunity for project partners to meet and get officially introduced to the project, its topics and main objectives. On the first day, the project coordinator presented the overall project, financial aspects and budgeting, partners' obligations and responsibilities. Project partners presented their organizations, their topics and their contributions to the project. Second day was dedicated to presenting project's timeline, activities and phases of the project, which was followed by planning project activities and discussing tasks, responsibilities, ideas for improvement etc.

Next project activity will take place in Berlin in February and will focus on SDG 11: Sustainable cities and communities.