From aspiration to operation: impressions from the NAEM Impact Conference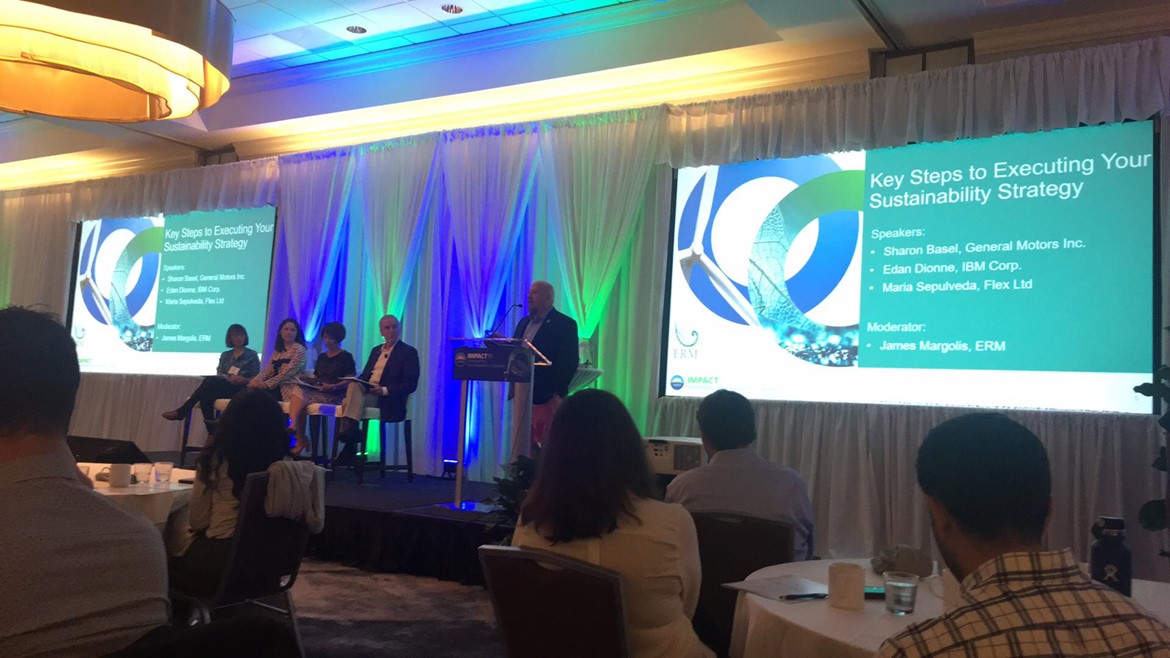 On 6th to 8th August, I attended the National Association for Environmental Management (NAEM) Impact Conference in Milwaukee, Wisconsin. The NAEM is a professional association that empowers corporate leaders to advance environmental stewardship, create safe and healthy workplaces and promote global sustainability. It's a great and welcoming community of passionate and committed experts.
Featuring peer case studies, breakout sessions and keynote presenters from the likes of the City of Milwaukee, General Motors, IBM, Novartis and the World Wildlife Fund (WWF), the conference brought together sustainability and health and safety experts from across the world. Its aim: to help business leaders create actionable strategies to operationalize sustainability goals and create business value.
Transparency in triplicate

Entitled Impact 19: From Aspiration to Operation, this year's conference discussed ways in which companies can engage investors and build a robust sustainability strategy, outlining the emerging issues for 2020. Three elements formed the basis of these processes:
Transparency: expectations on corporate transparency have changed. With evidence mounting that companies who perform better on environmental, social and governance (ESG) also perform better financially, stakeholders are increasingly demanding full disclosure. If a company doesn't disclose, information about it will be available through other sources, but the company won't be in control of its narrative and how it is framed. It's therefore in an organization's interests to take charge of its disclosure and use corporate openness to strengthen its brand perception.
Data: agenda-setting has to be data-driven. Aspirational goals can sound wonderful, but they mean little without the data to back them up and they're not credible in the eyes of the investors and the board. Organizations need to keep an eye on what's happening in society, understanding the risks and opportunities that external events present to their operations. This means having an understanding of what is relevant – through a robust process that identifies material risks and opportunities and monitors them over time.  A process backed up by data, excluding fads and noise.
Community: organizations need to socialize their goals and strategy, successes and pitfalls. Open and honest engagement with stakeholders is key to success. Board and senior management engagement is important, but it's not enough. By building a governance system with its community in mind – including mid-management – and making sure that this vision is properly implemented, a company can ensure a consistent approach to sustainability that is understood and embedded in the organization.
Datamaran and ERM: how to make materiality more strategic
You can get out much more from your materiality analysis than a nice looking visualization for your report. Together with Datamaran's partner Environmental Resources Management (ERM), we presented in the Solution Center on how leading companies can use Datamaran's platform and ERM's advice to make materiality strategic.
Materiality is generally seen as the cardinal principle to defining strategic priorities. However, it is often confined to reporting – and thereby disconnected from risk management, strategic planning and investor engagement. It's all about the theory, and not the practice. In order for teams to work together in an integrated way to generate actionable insights for investor relations, goal-setting, risk identification, assessment and mitigation, companies need a robust materiality analysis that is data-driven; supported by sound processes that monitor the evolution of material issues; and operationalized through expert advice.
If you'd like to find out more about the NAEM Impact Conference, or if you need support in setting your company's vision and integrating sustainability goals into business operations, please get in touch.
Related Posts: