The Circular Economy: A New Syndustrial Revolution
In a previous Soci-SDG blog (Closing the Loop: A Key Business Model for SDG 12), I wrote about the world's first feature length documentary film on the circular economy, which I co-produced and presented. Since its launch, the film has enjoyed considerable success, with numerous festival selections and over 100 screenings held or planned in over 40 countries. The Circular Economy Club also plans to have a global screening series of event from 22-28 October 2018, when their members from 60 countries will all screen the film.
In this article, I want to go deeper into the thinking behind the circular economy revolution. I began this journey of looking at the circular economy through my work in sustainability. After many years consulting to multinationals and businesses around the world on sustainability, I realised that if we don't solve this one problem – our linear economy - everything else we do, no matter how well intentioned it is, will be like shifting deck chairs on the Titanic. It just will not be enough.
What Moving from Linear to Circular Means
The only thing that's enough is redesigning the industrial system, literally a new industrial revolution – which I call the Syndustrial Revolution, since it is based on the synergies created from closing the loop on resource and energy flows. This means a fundamental shift from a take-make-use-waste linear industrial model, to a borrow-create-benefit-return circular zero-waste system.
In the Old Industrial Model (see Figure 1), we take, make, use and waste:
We Take – by depleting non-renewable resources and over-use renewable resources (Extract) and by striving for limitless economic growth (Expand);
We Make – by producing any products and services that the market demands (Produce) and persuading customers to buy and consume more (Promote);
We Use – by buying more than needed, leading to overconsumption (Consume) and by individually owning what could be shared (Collect); and
We Waste – by turning consumed products into trash and pollution (Dump) and by creating toxins and impacts that harm people and nature (Damage)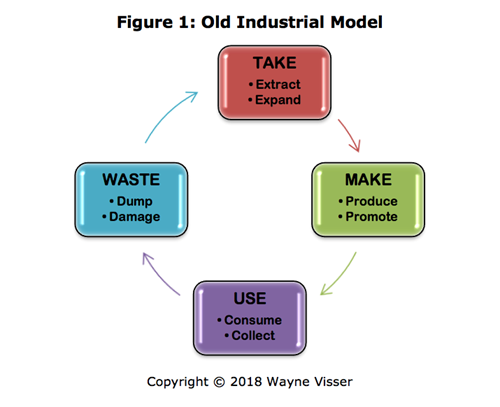 In the New Syndustrial Model (see Figure 2), we borrow, create, benefit and return:
We Borrow – by conserving all natural resources (Reduce) and increasing renewable resource use (Renew);
We Create – by designing and making products with no negative impact (Refine) and innovating products with positive impact (Restore);
We Benefit – by extending the product by repairing and reusing (Reuse) and by improving use by leasing and sharing (Redistribute); and
We Return – by using end-of-first-life (EOFL) materials to recreate the same products (Recycle) and to create new products (Reinvent).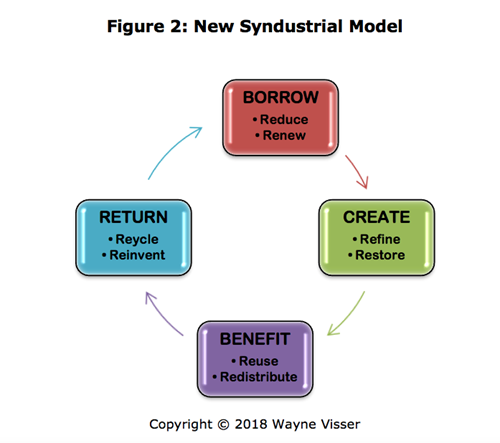 Standing on the Shoulders of Giants
This is not a new idea. Some say it even goes back to Leonardo Da Vinci in the 15th Century because he was already talking about things like the metabolism of a city, the flows of material and people and waste of people in the city and coming up with a design that would create a healthy city.
More recently, circular thinking emerged in the 1960s – we had the development of two really critical concepts, one was the idea of "spaceship earth", the earth as a single living system, and the other was the notion of a product life cycle.
Spaceship Earth was introduced in the 1960's by a number of people, notably Barbara Ward, Buckminster Fuller and an economist called Kenneth Boulding. And what they were saying is that the earth is finite, just like a spaceship. There is no "away", we've got limited resources.
So we have to redesign the economy to be circular. Kenneth Boulding rather helpfully contrasted it with the current economy, which he called the Cowboy Economy. His point was that we are living like cowboys on the wide open plains, as if we can use up the resources and just move on to the next place.
Life cycle thinking or life cycle assessment, also came out in the 1960s and was promoted by the US Environmental Protection Agency. In fact, Coca-Cola in 1969 did the first life cycle assessment on the different types of bottles that they use to find out which has the least impact over the full life cycle of the product. Today, we talk about cradle to cradle, how you close that loop – a term introduced in the 1970s but popularised in the 1990s by William McDonough and Michael Braungart. The idea is that we design for circularity.
This has been complemented by other concepts like cleaner production coming in during the 1990s; also industrial ecology or industrial symbiosis – and all of these coming together in a really simple concept, which is how you go from linear in the economy, take-make-waste to circular where effectively waste becomes food in the process and it keeps going round and round. This move to a circular economy supports the UN Sustainable Development Goals, especially Goal 12 on Responsible Consumption and Production.
Make no mistake, it will not be easy – and there is no "one size fits all" approach, as the varied experiences across three continents show – but the circular economy revolution is imperative. The alternative is the end of history.
 Author: Prof. Dr Wayne Visser / Kaleidoscope Futures
 _________________________________________________________________________________________________________________________________________
More information about the film and upcoming screening events can be found at: www.closingtheloopfilm.com. To arrange your own free screening event, contact us via the website.
About the author
Prof. Dr Wayne Visser is Director of Kaleidoscope Futures and holds the Chair in Sustainable Transformation and is Professor of Integrated Value at Antwerp Management School. He is also Fellow of the University of Cambridge Institute for Sustainability Leadership. He is the author of 28 books – including The World Guide to Sustainable Enterprise and Sustainable Frontiers: Unlocking Change through Business, Leadership and Innovation.
Related Posts: