InfoBlog - Research: SDGs in the Financial Services sector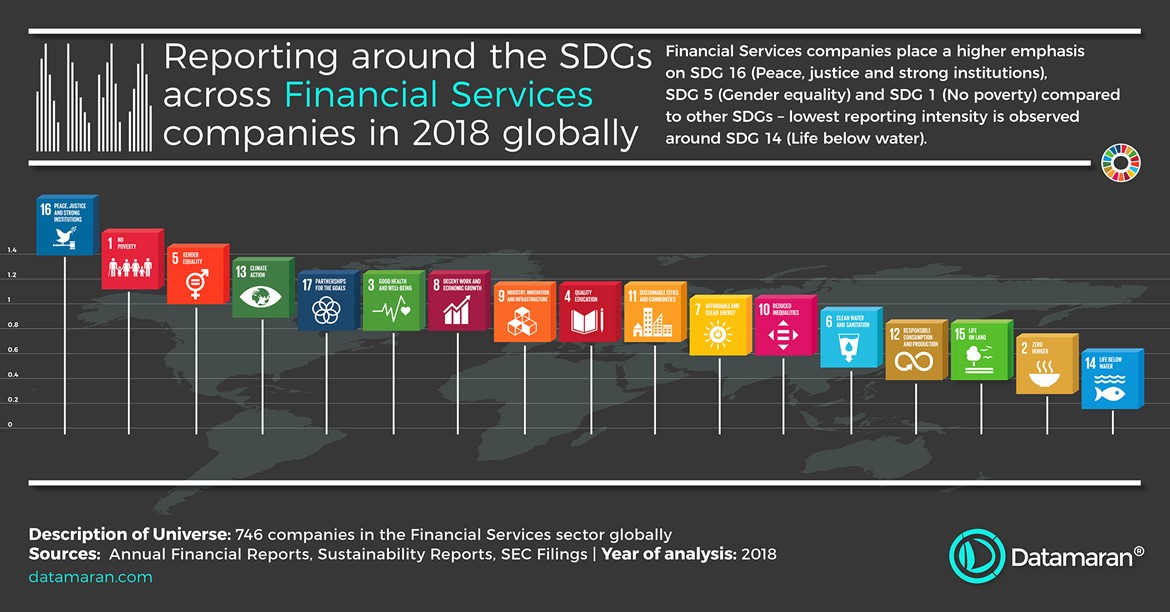 At Datamaran we started a dedicated project on monitoring corporate awareness on the SDGs across different sectors. Leveraging our dataset of over 50.000 corporate reports and our approach based on Natural Language Processing, we can provide objective and data-driven insights.
This InfoBlog provides our analysis of the corporate disclosures concerning the SDGs in the Financial Services sector, ranking the Goals from the most reported to the least in the disclosures of companies worldwide. Our methodology includes the analysis of the implicit mentions of the SDG topics (i.e. a company can disclose information on climate change without mentioning explicitly SDG 13).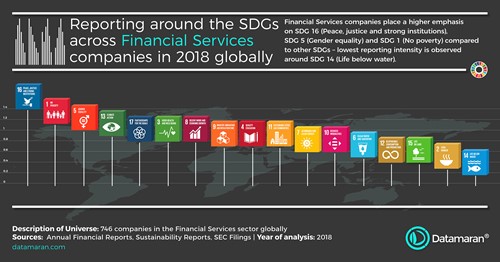 The results show that the issues related to SDG 16 are the most disclosed by the global Financial Services sector, followed by No Poverty and Gender Equality. The focus on those SDGs is not surprising as financial inclusion and access to capitals are key elements to fight poverty globally.

Interestingly, climate change is the 4th SDG showing up in the ranking, while other environment-oriented SDGs are lagging behind. The interest of the Financial Services sector in climate impacts and risks is driven by recent policy interventions, such as the EU Action Plan on Sustainable Finance (you can read more here) or the Task Force on Climate related Financial Disclosures (you can read our analysis on the TCFD here).
Author: Donato Calace / Datamaran
Related Posts: