IDOP (Croatia)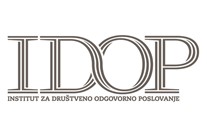 In the sociSDG project, IDOP will focus on SDG2: ZERO HUNGER.

The Croatian Institute for CSR or IDOP is a non-profit, research and advisory organization focused on the development of corporate social responsibility and the promotion of non-financial reporting through independent research, consulting and presentation of best practices in Croatia.

IDOP has been founded in 2015 by fourteen professionals from the fields of sustainability, CSR, accounting, finance, marketing, civil engineering, architecture and public relations, primarily because of the growing demand for a specialized institution in the CSR field in Croatia aimed at raising awareness and educating decision makers, enterprises, media, members of academia and the general public.

Focusing on sharing the knowledge and expertise in the field of CSR through organizing lectures, workshops and seminars, conducting research and consultancy work, IDOP has carried out a number of educational programs for adults, companies and enterprises on non-financial reporting, corporate citizenship, sustainability and CSR communication strategies such as seminars for companies, small and medium sized enterprises on non-financial reporting, lectures for students on non-financial reporting and UN Sustainable Development Goals, a series of lectures for empowering local communities through communication and collaboration with enterprises, and others.

Also, IDOP is a Global Reporting Initiative golden member in Croatia and its co-founder Nikolina Markota Vukić, PhD is a GRI non-financial reporter certified by GRI Swiss partner Sustainserv. IDOP's team is active in the field of scientific research and has presented their papers at various conferences on Corporate Social Responsibility, Controlling, Accounting and Management. IDOP is the only organization in Croatia that systematically follows relevant news, research and information on a global level when it comes to non-financial reporting, CSR and sustainability. Also, IDOP has organized a number of different educational programs and writing research papers regarding food donations and food safety, such as lectures for enterprises on issues of food donation system in Croatia.

Visit their website here.